Become a Divorce Coach
Find yourself in the professions listed below to see how they, and maybe you too, could discover a whole new way to leverage your experience to integrate divorce coaching into what you do!
CDC Certified Divorce Coach® is part of a professional movement to serve the public before, during, and/or after their Dissolution of Marriage (divorce). The process for becoming a CDC Certified Divorce Coach® involves training and study through the CDC College for Divorce Coaching® and certification by the CDC Board of Standards™.
Divorce Attorneys and Collaborative Law Professionals

People seek you out for answers about their divorce. Now find new ways to leverage your legal knowledge, expertise, insights and understanding about the legal process and serve clients in a different way.
Or add the additional service of divorce coaching as part of the firm's offerings to enhance communication and the range of support you offer your clients.
Family Mediators
When you find both parties may be unable to work together or mediation may not be appropriate, you can offer Divorce Coaching. You maintain the relationship and are able to support that individual who came to you seeking your services, even when mediation is not an option.
In talking with a prospective client you may see that the client may encounter some obstacles in dealing effectively with their spouse in the divorce process – perhaps a power imbalance, or lack of information or confidence. As a Certified Divorce Coach you can offer them the choice – to hire a mediator or hire a divorce coach leaving the decision to them as to how to best use your services.
Financial Professionals

With the experience of working with clients and helping them deal with some of the toughest decisions in divorce – perhaps as a CFP or CDFA or CPA, you may also enjoy the freedom of determining what services you offer to clients. You may also see the value in helping those divorcing to be better educated and better equipped to make the decisions in divorce but don't know how to break through the divorce story and help them to expand their thinking.
And you may find that having the coaching skills can enhance all aspects of your practices and help you create other streams of income.
Professionals Wanting a Meaningful Career

You have work or life experience with divorce and are interested in having a more meaningful career working with men or women who are divorcing. You will find the things you need to be confident as a divorce coach in this program, including:
All of the practices and frameworks to be a professional divorce coach respected by the other professionals.
A foundation of knowledge and skills and competencies for divorce coaching based on the standards of the International Coach Federation (ICF) a significant international standards-setting body for all types of coaching.
The program not only teaches coaching skills and practices for dealing with different divorce scenarios, it also teaches business building skills and marketing strategies for attracting and engaging clients.
Mental Health Professionals
Perhaps you have been yearning to create a cash business which may have some advantages that are missing in the insurance model. This can include the freedom to leverage your experience and knowledge in creating services and offerings that focus on a specialty area like divorce and serve the clients you feel most connected to.
You can also enjoy being influenced by your clients to offer new services as their needs evolve. This also brings the intellectual stimulation of value-based marketing and the freedom in being able to market to prospective clients in an easy and natural way for you.
Certified Coaches

As a coach you recognize the value of leveraging your own experience and applying that experience to developing a specialty coaching focus in divorce and bringing the transformational power of coaching to people going through divorce. And you can be confident in knowing you can make a difference and also be credible in the eyes of other divorce professionals.
If you are already coaching men or women post-divorce but don't know how to coach individuals from the very beginning of the divorce process, from "Help, I have just been served with papers – now what do I do?",you now have the tools, skills and best practices to help someone from the beginning all the way through, and know you can help them whatever their circumstances!
Have Questions?
Request a Phone Meeting
We lead the course according to these practices:
The Four Cornerstones of the CDC Certified Divorce Coach® Program
A Professional Standard: Models and best practices, ethics, and professional boundaries.
Personal Excellence: Integrity, presence, being our best selves and on- going growth and development.
Foundation of Trust: Building relationships, discovery process, trusting the process, positive feedback and taking the high road.
Generosity of Spirit: Delivering more than you expect, royalty-free materials, strategy consultations, celebrating success.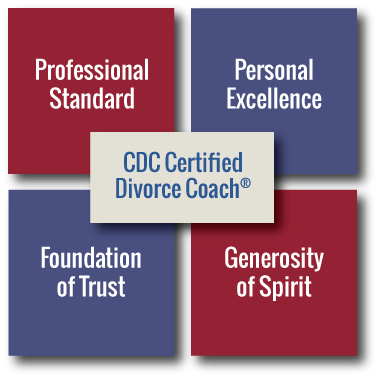 Why Join Our Community?
Together we are forging the way forward. The CDC Certified Divorce Coach® program is the professional standard for personal divorce coaching that attracts motivated learners from around the world. We are unique in the field of personal divorce coach training and certification and we are thought leaders in the profession of personal divorce coaching. And we engage highly qualified professionals in developing and delivering the training program and continuing education.
As a community, we have the vision to face the future and also to design it. We strive for excellence in all that we do and we are widely known as the best organization to train and certify personal divorce coaches. We serve and attract Attorneys, Therapists, Mediators, Coaches, Financial Experts, and other professionals to our community of professionals doing this important work.